To all the beginners out there. Welcome to the free world of writing.
Better, earning from what you write and being your own boss. Given the startup age, everybody wants to start something of their own. Disparate from their boss' limited view at things and with an urge to make a mark.
Earlier, there was a single school of discipline called Marketing that included, Sales, MARCOM and Business Development. Now the picture is altogether different. Enter Internet. We gaze into the 13-inch screen longer than we have even spoken to our colleague sitting next to us during the day. Today, internet has, I would say, spruced up the business and market scenario and made it a tad bit complex. 2 sides of the same coin. Given the shift of customers towards internet, business followed them and now we have online shopping hitting $2.29 billion in sales this past Cyber Monday. (View more internet marketing stats here)
I have specifically named this post in a very "textbook" sort of way so that I can add to it, plus, you can relate to it better as a step by step guide for learning the art of crafting content.
So what do you say when someone asks you 'What exactly is content?'
Content is anything and everything that the sea of internet junkies, customers, businesses, job seekers, artists and you would want to read, watch or listen to. Content is the base on which any business or individual draws attention over the web through varied media. The most widely used forms of content are: blogs, articles, websites, videos(both product and brand message), podcasts, case studies, white papers, online seminars.
Here's an excellent content matrix designed by Distilled, that very clinically shows, what are the different forms of content being used and at what level/purpose of communication. The levels being marked as: Awareness, Purchase as a function of Emotional and Rational tone of communications. The purposes being classified as: To – entertain, educate, persuade and convert.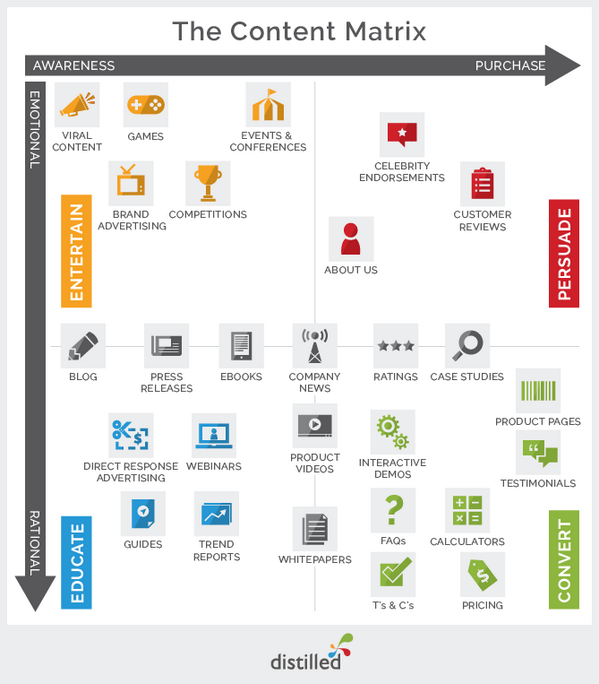 Phew! I could on and on while there will be some more unique forms of content taking birth in the minds of those crazily awesome Digital Content stalwarts! To sum it up – The more, the merrier.
In my next post -'Content Writing 102' ( I won't divulge the title just yet ;)), I shall tell you how to arrive at an acceptable and usable marketing content from resources across the internet. In short, how to filter out all the noise around you to refine and collect usable content.
Meanwhile, if you like this post and would want me to write about any particular topic of your choice, please leave your comments below. I would be more than happy to hear from you.
For content project inquiries, please leave your details in the form below or write to me on nidhi@wordhoot.com!
Cheers and stay tuned!